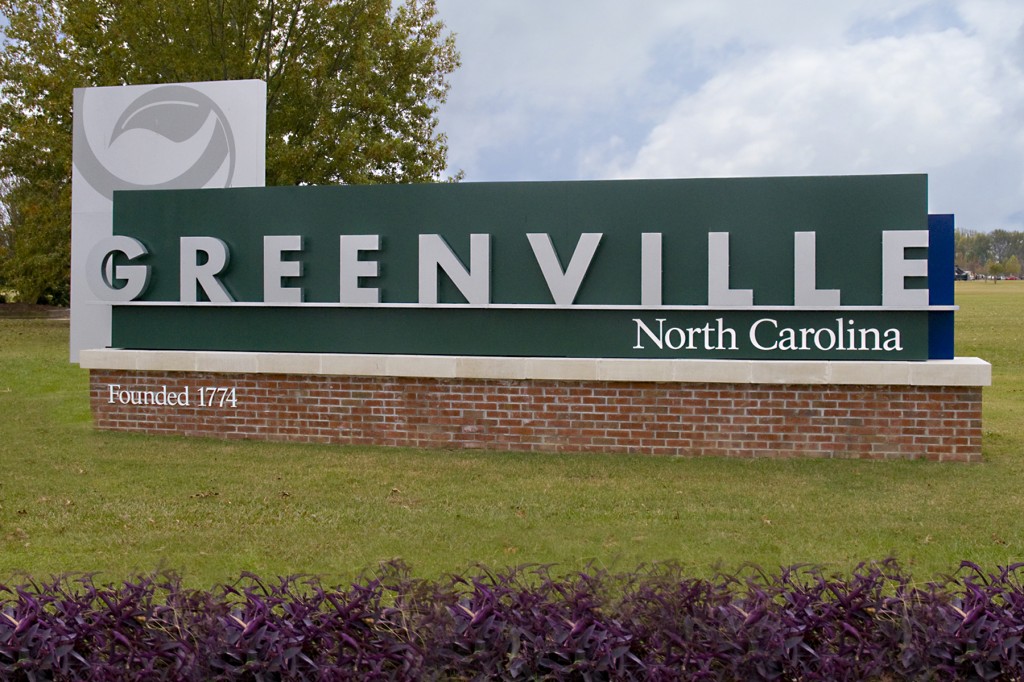 Greenville is the county seat of Pitt County, principal city of the Greenville metropolitan area, and the 10th largest city in the state of North Carolina. Greenville is the health, entertainment, and educational hub of North Carolina's Tidewater and Coastal Plain. The city's official population as of the 2011 United States census estimate is 86,017 residents while the Greenville Metropolitan Area includes 192,690 people. In January 2008 and January 2010, Greenville was named one of the nation's "100 Best Communities for Young People" by the America's Promise Alliance. In June 2012, Greenville was ranked in the top ten of the nation's "Best Small Places For Business And Careers" by Forbes Magazine.  In 2010 Greenville was ranked twenty-fourth in mid-city business growth and development by Forbes Magazine. The city is also known as "BMX Pro Town USA", as it is home for many top professional BMX riders. Greenville is the home of East Carolina University, the second-largest university and fastest-growing campus in the University of North Carolina system, and Vidant Medical Center, the flagship hospital for Vidant Health and the teaching hospital for the Brody School of Medicine. The city has the fifth highest percentage of residents in North Carolina – almost 30 percent – who have obtained bachelor's degrees.
For over a century, Greenville was recognized only for being an important tobacco market and the home of a small state-supported college, charted by the Legislature in March 1907 and named East Carolina Teacher's Training College, a co-ed institution. By the mid 1960s, East Carolina College had become the third largest state-supported college, and enrollment approached 8,000 students — twice the 1960 enrollment figure. In 1967, it became East Carolina University. ECU Medical School admitted its first four-year class in 1977. At the turn of the century, enrollment at ECU topped the 18,000 mark, and now exceeds 27,500 students.
Greenville's current economic development began in 1968 when Burroughs Wellcome, a major pharmaceutical research and manufacturing firm, chose Greenville as its home. The site is now owned by DSM Pharmaceuticals, which employs approximately 1,400 people. The city and Pitt County have also become home to many other major industries and businesses including Harper Brush, NACCO Materials Handling Group, Grady-White Boats, and ASMO. Greenville is also home to The HammockSource, the world's largest hammock manufacturer.
Economy
| | | | |
| --- | --- | --- | --- |
| # | Employer | Product | Employment |
| 1 | Vidant   Health | Health Care | 7,868 |
| 2 | East Carolina University | Education | 5,795 |
| 3 | Pitt County Public Schools | Education | 2,754 |
| 4 | DSM | Pharmaceuticals | 1,500 |
| 5 | NACCO   Materials Handing Group | Lift Trucks | 1,000 |
| 6 | Pitt Community College | Education | 953 |
| 7 | County of Pitt | Government Administration | 930 |
| 8 | Wal-Mart | Department Store | 876 |
| 9 | City of Greenville | Government Administration | 743 |
| 10 | Physicians East | Medical Care | 535 |
| 11 | ASMO of Greenville, North Carolina | Advanced Automotive Technology | 530 |
| 12 | Greenville Utilities Commission | Public Utilities | 460 |
| 13 | Convergys | Customer Service Center | 410 |
| 14 | Metrics, Inc. | Pharmaceuticals | 350 |
| 15 | Grady-White | Fiberglass Boats | 250 |
The city's industry historically was centered around the sale and processing of tobacco, but today the major industries are health care, education and manufacturing. The largest employer is Vidant (formerly called Pitt Memorial Hospital) , with East Carolina University coming in second, with specialized manufacturing and scientific industries augmenting the employment portfolio. The education industry employs approximately 8,600 people. The health care industry is second with approximately 7,000.
Health Care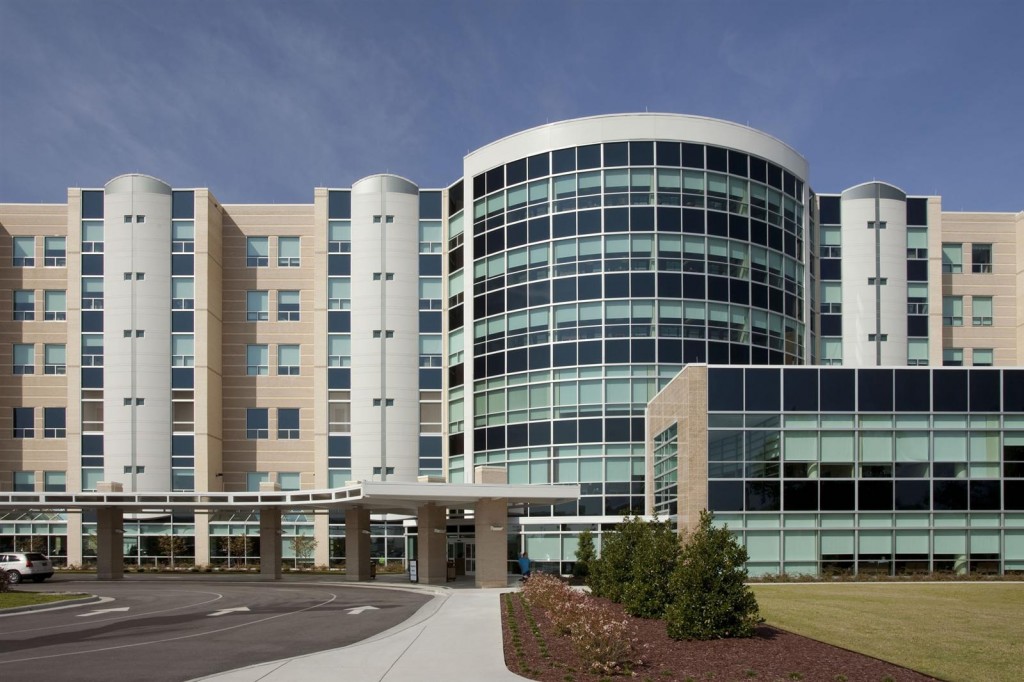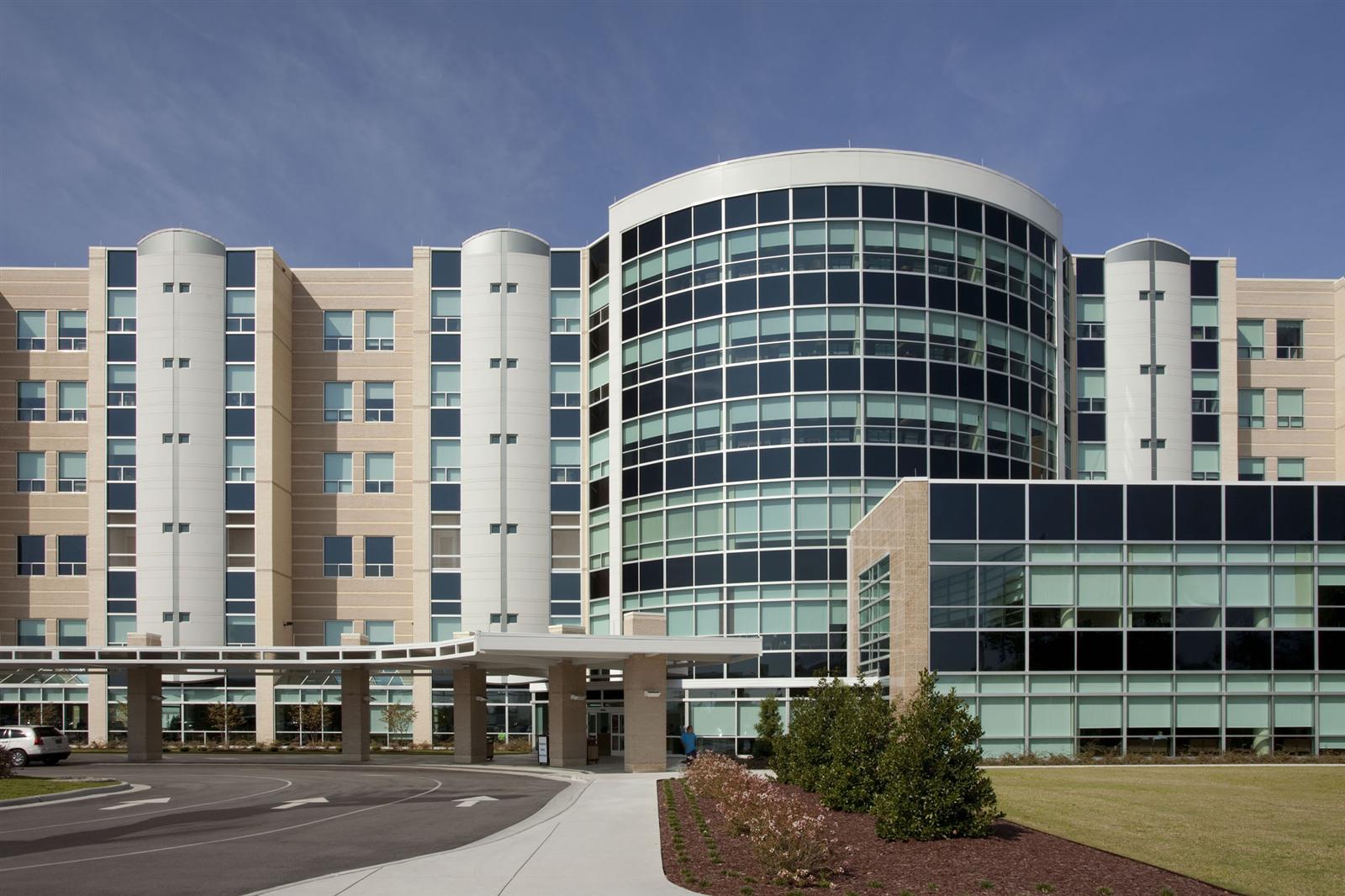 The health care community in Greenville is one of the largest in the state of North Carolina. Vidant Medical Center is the fifth largest hospital in the state of North Carolina and is one of four academic medical centers in North Carolina. It serves as the teaching hospital for The Brody School of Medicine. The hospital hosts over 1700 licensed medical providers and serves over 1.2 million residents of the region. Many medical offices and clinics along with the hospital and university teaching facilities lie on Greenville's west side, comprising what is locally known as the Medical District. The East Carolina Heart Institute is open and has added 250 jobs at the hospital along with a state-of-the-art six floor facility.[
Culture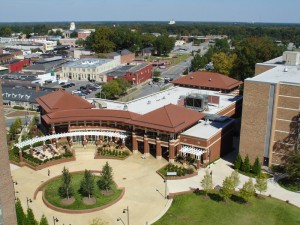 Greenville is home to a wide range of cultural events on and off the East Carolina University campus. East Carolina University offers musical concerts, theatrical and dance productions, travel films, and lectures. The Greenville Museum of Art contains local art, as well as rotating exhibitions. Annually over 3,000 children participate in programs offered by the Museum and over 12,000 people visit the museum.
Theater is beginning to emerge in Greenville as well. Local groups such as the Greenville Theater Projectand the Magnolia Arts Center offer outlets for both performers and audiences alike. Smiles and Frowns Playhouse produces children's theatre. Additionally, student groups such as SWASH Improv offer entertainment at the university and local establishments.
Many restaurants and nightclubs offer live entertainment on the weekends. In the old Five Points area (in the newly renovated parking lot at Evans and Fifth Streets) every Wednesday in warm months, an Umbrella Market features local growers and producers plus crafts people. This is also the venue for "Freeboot Friday" on Fridays in the fall when there is a Saturday ECU home football game. It is an "Alive-At-Five" style pep-rally with live music, ECU cheerleaders, exhibits, children's activities, food samplings, and a beer and wine garden. The Downtown area is known for its large annual Halloween street party and live music bars. Considering the size of the city, Greenville has a large number of bars and nightclubs located downtown, due in large part to the location of ECU's campus which is immediately adjacent to downtown. In January 2012, a refurbished weekend Gay Lesbian Bisexual Transsexual nightclub reopened. This nightclub is currently closed down.
Shopping
Greenville is the regional shopping destination for the Inner Banks area since many big-box retailers and specialty shops are located in the city. Large centers include Greenville Mall (formerly Colonial Mall Greenville and Pitt Plaza originally), University Commons, Lynncroft and Arlington Village. La Promenade II, Arlington Village, and Arlington Plaza located within Greenville Blvd, Arlington Blvd, and Red Banks Rd is one of the biggest outdoor shopping centers in Greenville housing over 60 shops and restaurants including Old Navy, Talbots, Olive Garden, and Longhorn Steakhouse. A new development called 11 Galleria, on the site of the former Carolina East Mall, features a number of big-box retailers. Already present are Sears, Kohl's, The Fresh Market, and Dick's Sporting Goods. This new shopping center will contain a total of 400,000 sq ft (37,000 m2). In late 2013, a second Walmart will open on Highway 33 east along with additional restaurants and retail space.[25]
Sports
ECU's sports teams, nicknamed the Pirates, compete in NCAA Division I-A as a full-member of the 12 team Conference USA, until July 1, 2014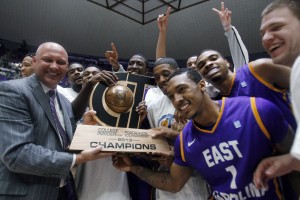 when all sports move to the American Athletic Conference. Facilities include the 50,000 seat Dowdy-Ficklen Stadium for football, the 8,000-seat Williams Arena at Minges Coliseum for men's and women's basketball, and the Clark-LeClair Stadium, with a seating capacity of 3,000 (max capacity of 6,000+ when including outfield "Jungle" areas) for baseball. In 2010 a state of the art, Lady Pirates softball stadium with a seating capacity of 1,500 has been completed, neighboring a new ECU track and field facility and soccer stadium plus an Olympic sports coach's offices and team rooms facility are in varying stages of completion all along Charles Boulevard, the main entry way for all Pirate sports.
Olympic gold medalist Mark Lenzi coached the East Carolina University Pirate Men's and Women's diving teams until his death in 2012.
Greenville has a strong tradition in Little League Baseball. Greenville Little Leagues was founded in 1951 and has two leagues; North State and Tar Heel. In 1998, a team from Greenville represented the South Region in the Little League World Series. They made it to the semi-finals, where they lost to eventual champion, Toms River, New Jersey.

Along with Little League success, Pitt-Greenville softball teams have won multiple world series titles. Since 2006, Greenville has sent Babe Ruth baseball teams to Southeast Regional competition each year in two different age groups, with two teams reaching the Babe Ruth World Series; the '06 15 yr. old team, and the '08 13 yr. old team. The 2006 team became the first Greenville Babe Ruth team to reach the World Series in 30 years, along with becoming the first Babe Ruth team to ever win a World Series game, defeating Clifton Park, New York 12-0. In 2012, the 13u Greenville All-Stars advanced to the Babe Ruth League World Series. The 2012 squad advanced to the championship game, falling to Bryant, Arkansas 4-3.
Greenville is also home to one of the six gyms of Cheer Extreme All Stars.
Greenville is home to two major running groups, GoRun (Greenville Organization of Runners) and Greenville Running group. In addition a large bicycling group, EC Velo, tours the city and Pitt County weekly.
Transportation
Several major U.S. and state highways converge in the area to provide easy access to the interstate highway system. Major highways that run through the area include US 264(Martin Luther King Jr. Highway), NC Hwy 11(Memorial Drive), US 13, NC 33, NC 43, and NC 903. Greenville is North Carolina's largest city without a major interstate; however, Interstate 95 is located 29 miles (47 km) to the west of the city. Greenville is currently widening lanes on Memorial Drive. Greenville's busiest roads are along Memorial Dr, Greenville Blvd, Arlington Blvd, 10th St, and Fire Tower Rd. Greenville is the most congested city in Eastern NC. Greenville is expected to complete the southwest bypass in 2018. It stems from the 264 intersection on Statonsburg Rd. It has currently been stalled due to funding cost. A new project call the 10th St Connector Project is also underway to connect existing 10th St to Stantonsburg Rd.
The City of Greenville operates a mass transit bus system called Greenville Area Transit or GREAT.
Greenville is in the process of building a more comprehensive system of greenways for bicycle and pedestrian transportation. The first section of the South Tar River Greenway opened in late 2009; the second section, linking a small and large dog run park with East Greenville was completed and dedicated in June 2011. The third section, uniting the Town Common (Downtown Greenville area) with the East Carolina University Schools of Allied Health, Dentistry, Medicine and Nursing, plus the Vidant hospital complex is now in the paid for and planning stage.
Education
Elementary Schools
Ayden Elementary School (K-5)
Belvoir Elementary School (K-5)
Chicod School (K-8)
Eastern Elementary School (K-5)
Elmhurst Elementary School (K-5)
Falkland Elementary School (K-5)
Grifton School (K-8)
Lakeforest Elementary School (K-5)
Northwest Elementary School (K-5)
Pactolus Elementary School (K-8)
South Greenville Elementary School (K-5)
Stokes Elementary School (K-8)
Wahl-Coates Elementary School      (K-5)
Wintergreen Primary School (K-2)
Wintergreen Intermediate School (3-5)
Middle Schools
A.G. Cox Middle School (6-8)
C.M. Eppes Middle School (6-8)
E.B. Aycock Middle School (6-8)
Hope Middle School (6-8)
Wellcome Middle School (6-8)
Farmville Middle school (6-8)
Ayden Middle school (6-8
High Schools
Junius H. Rose High School      (9-12)
D. H. Conley High School (9-12)
South Central High School (9-12)
North Pitt High School (9-12)
Farmville Central High School (9-12)
Ayden Grifton High School (9-12)
Higher Learning
East Carolina University
Shaw University (satellite campus)
Pitt Community College (satellite campus)
Miller Motte College
Private Schools
Brookhaven Christian School (K-8)
Calvary Christian Academy (K-12)
Christ Covenant School (PK-8)
Community Christian Academy (K-6)
Greenville Christian Academy (PK-12)
St. Peter's Catholic School (PK-8)
Pope John Paul II Catholic High School (9-12)
The Oakwood School (PK-12)
Trinity Christian School (K-12)
Victoria Christian Academy Christian Academy (K-12)
SOME HELPFUL LINKS
Information Provided Courtesy of Wikipedia.